Storm Forecast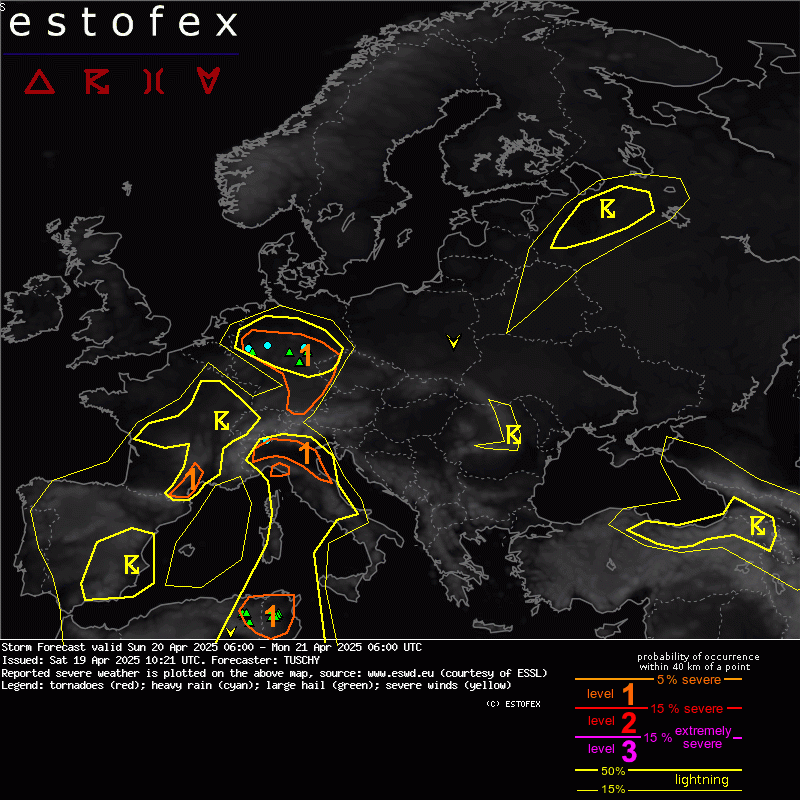 Storm Forecast
Valid: Sun 25 Sep 2016 06:00 to Mon 26 Sep 2016 06:00 UTC
Issued: Sat 24 Sep 2016 21:25
Forecaster: DAFIS
A level 1 was issued for Spain mainly for excessive rainfall and large hail and for South France mainly for excessive precipitation.

A level 1 was issued for Tunisia and South Italy mainly for excessive rainfall and large amounts of small hail.

SYNOPSIS

A long wave trough is progressively approaching West Europe providing considerable lift over the UK and Ireland, as well as in West continental parts. A vorticity lobe in the mid and upper levels crosses France and NE Spain during Sunday where convective and non-convective phenomena are expected, depending on the local conditions such as mid level lapse rates and convergence zones. Central Europe is under the influence of a high pressure system, but Balkans will experience another round of thunderstorm activity due to a shortwave trough, that attains large amounts of positive vorticity. Finally, in Central Mediterranean basin storms are also expected as a shortwave trough makes its way from Tunisia and Sicily.


DISCUSSION

.... Spain ....

Global as well as regional models forecast the development of about 1500 J/kg near the coasts of East Spain where local sea breeze interactions with the passage of the boundary front in the evening will create a favorable environment for thunderstorm development. NWP models also predict DLS 15-20 m/s and steep mid level lapse rates with a great potential for the organizing of storms into multicells and increasing the threat for large hail. Moreover, due to high amounts of PW and a possible long lasting convergence zone at the foothills of Pyrenees (simulated for about 9 hours in the models), excessive rainfall events are also expected.

.... South France .....

In contrast with the hail threat in Spain, South France will experience thunderstorm activity in the afternoon, while the cold front will be crossing the country, pushing moist air masses to the east, towards the Alps. CAPE values below 400 J/kg, weak DLS - MLS and mid level lapse rates of about 5 K can rule out any large hail threat, but the Alpine mountain range may enhance the lift of the air masses apart from the vorticity lobe that accompanies the system and may lead to excessive precipitation events in SE France. The threat diminished after midnight.

.... Tunisia and South Italy ....

Warm sea (high theta-e air masses) below rather cold mid-level layers create some hundreds of CAPE with moderate DLS of 15-18 m/s. In the north parts of Tunisia low level flow from the North feeds with moist and warm air masses the continental parts where local convergence zones lead to CI and local flash floods due to slow moving storms. On the other hand, W-NW low level flow over Sicily may push highly unstable air masses on shore, where forecasting soundings suggest a rather saturated vertical profile but also some drier layers below 700 hPa, an indication that if enough effective CAPE exists, not only excessive convective rainfall is expected but also small hail in large quantities (PW >30mm).