Storm Forecast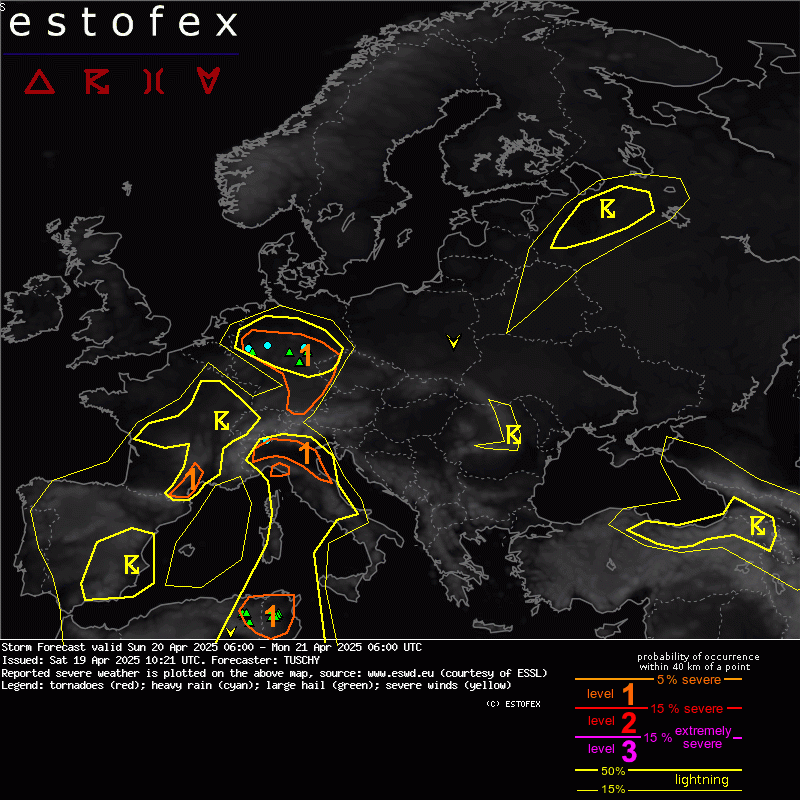 Storm Forecast
Valid: Wed 26 Oct 2016 06:00 to Thu 27 Oct 2016 06:00 UTC
Issued: Tue 25 Oct 2016 20:41
Forecaster: PUCIK
A level 1 was issued for parts of Italy mainly for large hail and excessive precipitation.

SYNOPSIS

At mid to upper troposphere, several disturbances in the prevailing W-ly flow are simulated, especially over the N Europe. One of these disturbances, a short-wave trough, will shift from the Baltics towards NW Russia. However, its base over Central Europe and France will split during the morning hours, continuing as a separate trough towards N Italy, Corsica and Sardegna. Trough is associated with an advance of the cold front across the region and their encounter with relatively moist airmass over the Mediterranean will likely result in the scattered DMC. Other parts of Europe will experience relatively stable conditions.

DISCUSSION

... Italy ...

The aforementioned trough and the cold front will start crossing the region in the afternoon hours. With surface dewpoints between 18 and 20 deg C, as well as mid-tropospheric lapse rates around 7 K/km, MLCAPE values between 500 to 1500 J/kg are simulated over the W Italian coastlines. Early in the day, DLS in the area will reach 20 - 25 m/s, decreasing to around 15 - 20 m/s by the evening hours. Storms will first form in the northern part of the area by the afternoon, spreading S-ward as the front progresses in the same direction. Primary threats will be large hail (especially if some supercells manage to form in moderately sheared environment) and excessive precipitation.