Storm Forecast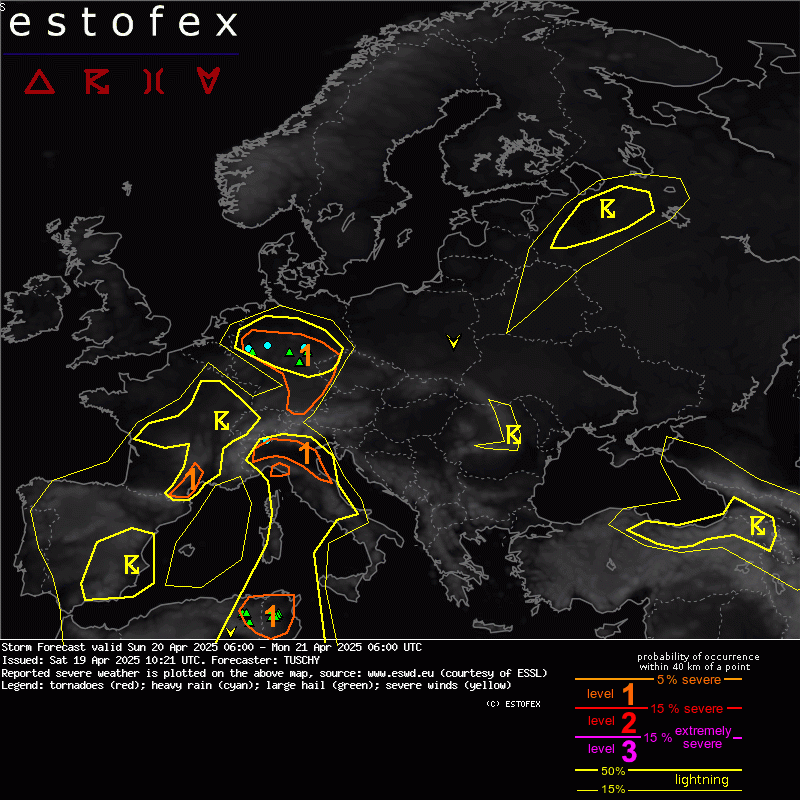 Storm Forecast
Valid: Wed 24 Aug 2016 06:00 to Thu 25 Aug 2016 06:00 UTC
Issued: Tue 23 Aug 2016 23:19
Forecaster: PUCIK
A level 1 was issued for NW Spain and N Portugal mainly for large hail and severe wind gusts.

A level 1 was issued for SE Ukraine mainly for excessive rainfall.

A level 1 was issued for N Russia mainly for severe wind gusts and tornadoes.

Synopsis

A large ridge stretches from N Africa into W Europe, with strong flow in between of the ridge and a cyclonic vortex over the Atlantic. In this southwesterly flow, a plume of steeper lapse rates will have advected from Iberia towards BENELUX. However, strong capping will likely prevent initiation (at least surface based) over much of the area. More thunderstorm activity is forecast over the E / SE part of Europe, tied to the advancing cold front over Russia and to the cut-off low over the Ionian Sea. A pronounced short-wave trough is associated with
the cold front, inducing deepening of the low over Russia.

... NW Spain, N Portugal ...

Enhanced mid-tropospheric flow will result in 15 to 20 m/s of DLS, promoting good storm organisation. In the environment
of high LCLs and steep lapse rates, stronger storms may be capable of large hail and/or severe wind gusts. Negative
factor in the setup could be an early day convective activity, leaving convective debris behind and subsequently hindering heating. Nevertheless, a low-end Lvl 1 seems to be warranted for this scenario.

... SE Ukraine ...

A combination of rather moist low-level airmass with very slow storm motion may result in some excessive rainfall events from quasi-stationary storms.

... N Russia ...

Ahead of the cold-front, scattered to widespread convective initiation is forecast. Due to the deepening surface low,
850 and 700 hPa flow is simulated to reach 15 to 20 m/s, with 0-1 km and 0-3 km bulk shear exceeding 10 and 15 m/s respectively. With strong linear forcing along the front, most of the shear confined to the lower troposphere and oriented parallel to the front, primary convective mode will likely be linear segments with threat of severe wind gusts. However, if isolated supercells form, risk of tornadoes will be present too, given the low LCLs (below 1000 m) and DLS above 10 m/s.