Storm Forecast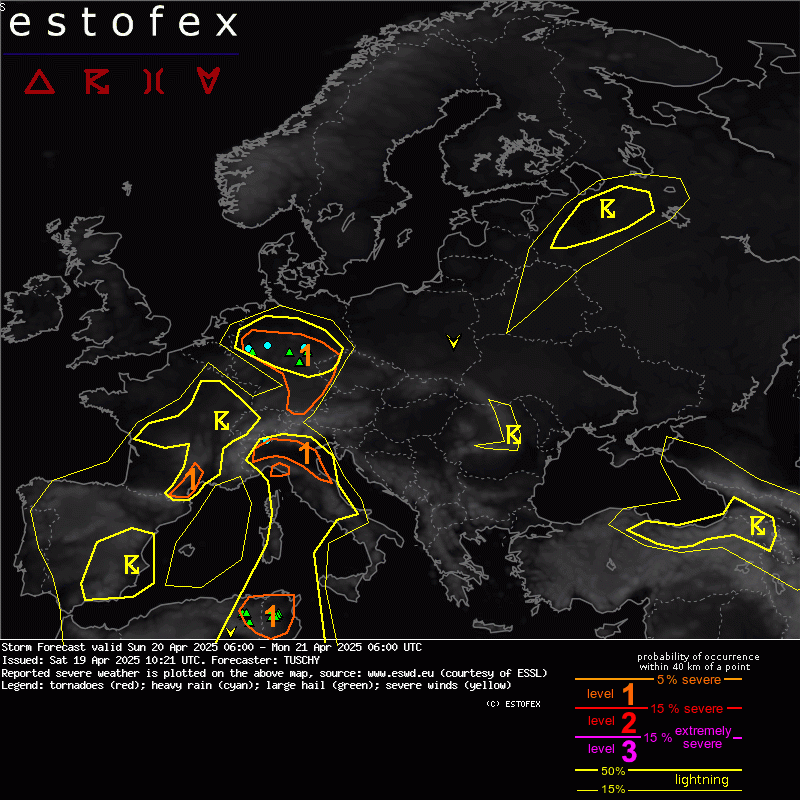 Storm Forecast
Valid: Wed 26 Apr 2017 06:00 to Thu 27 Apr 2017 06:00 UTC
Issued: Tue 25 Apr 2017 21:50
Forecaster: PUCIK
A level 1 was issued for NE Italy mainly for excessive rainfall and tornadoes.

A level 1 was issued for Algeria mainly for large hail and severe wind gusts.

SYNOPSIS

As of Wednesday, at 12 UTC, a deep, positively tilted trough will cover much of N and W Europe, roughly from Finland towards the Bay of Biscay. At the forward flank of trough, strong SW-ly flow, with windspeeds in the range of 25 - 40 m/s at the 500 hPa level, will be situated atop a wavy frontal boundary, stretching from N Spain, through the Alpine range, E Czech Republic, E Poland towards W Russia and Finland, where a surface low will quickly deepen in an exit region of cyclonically curved jet. Further south along the wavy front, several other, more shallow, lows will form, e.g. over N Italy. In the summer time, with more abundant moisture and steeper lapse rates, such situation would likely result in conditions favourable for severe thunderstorms across a large area. However, due to the general lack of ingredients at this time, only few spots along and ahead of the front may experience DMC, such as NE Italy discussed in more detail below. Thunderstorms will also be possible in the core of the trough (parts of England, Wales, BENELUX, France, Finland and Russia), where very cold mid-tropospheric temperatures contribute to lapse rates exceeding 7.5 K/km. The deep trough will also affect N Africa, where isolated storms may form as well.

DISCUSSION

... NE Italy ...

Surface observations from Wednesday evening reveal dewpoints btw. 10 to 12 deg C over the area while Rivolto 12 UTC sounding shows shows saturated profile with weak latent instability up to 600 hPa. As the southerly flow advects slightly moister air from the Adriatic Sea ahead of the deepening surface low, marginal CAPE is expected to build up by Wednesday afternoon in the area. However, models also reveal large stratiform rain shield, possibly hindering any sunshine, at least early in the period. It is likely that any storm that forms will be more or less embedded in the rain with an effect of increasing the rainfall rates and locally producing excessive amounts. There will be a potential (although very questionable) for storms to become more surface based, which would likely result in rapid organisation into supercells given DLS above 25 m/s and considerable SRH. With low LCLs and LLS above 10 m/s, tornadoes would be possible in such case. Combination of these threats warrants a Lvl 1, although a rather marginal one atm.

... Algeria ...

Ahead of the trough with a base over N Iberia, mid-tropospheric flow will strengthen to around 20 m/s, overspreading a tongue of moister airmass and an area of steep lapse rates. This should result in a combination of marginal to moderate latent instability with rather strong vertical wind shear, providing conditions sufficient for well organised convection. Isolated to scattered storms will initiate along local topographic features or an advancing cold front. Primary threat will be large hail, followed by severe wind gusts.